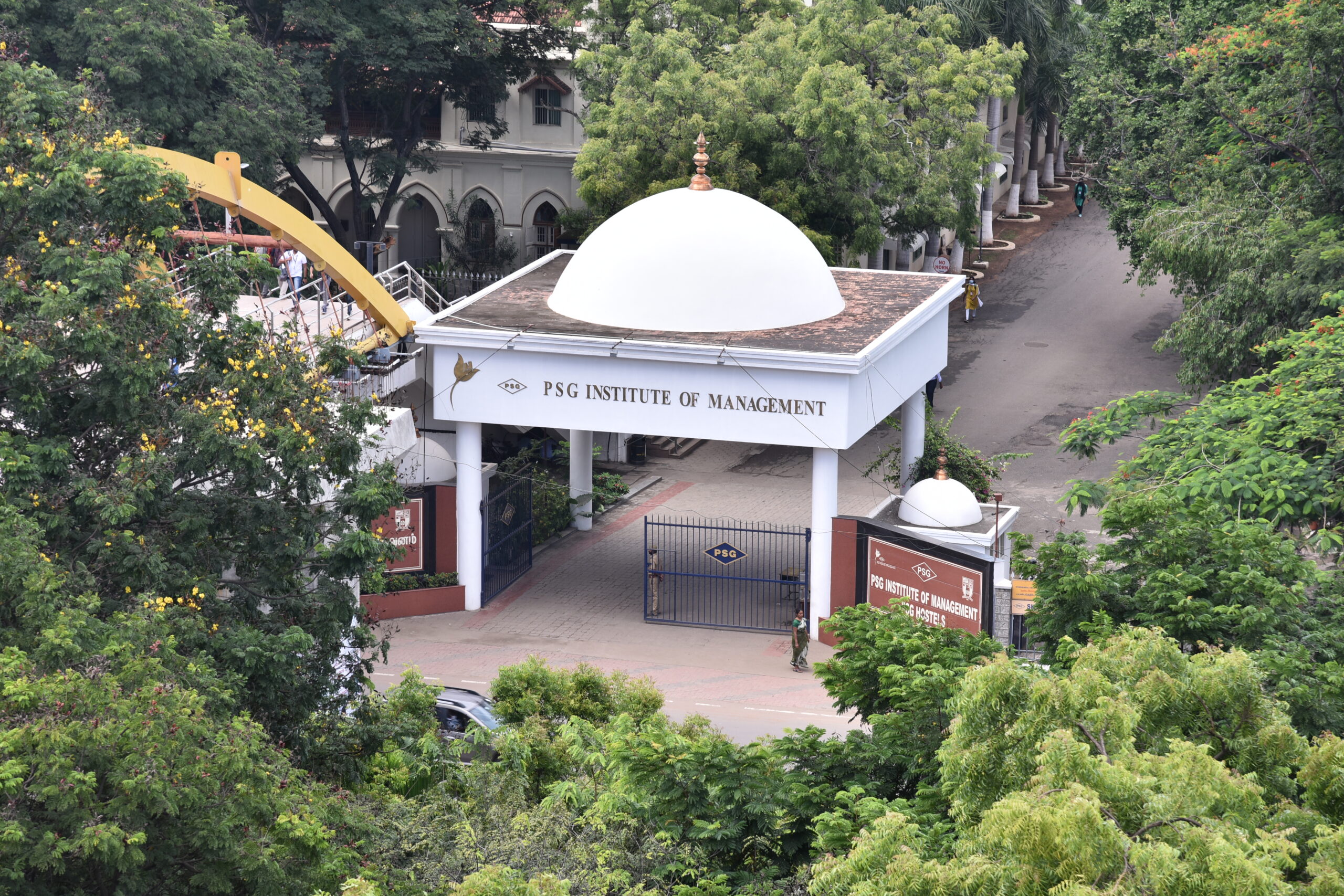 PSG Management Alumni Association
The PSG Management Alumni Association is a community of alumni of PSG Institute of Management in Coimbatore, India. The association's primary objective is to create a vibrant community that can contribute to the growth and progress of the institute. It is a platform for alumni to connect with each other, share their experiences, and participate in various activities that contribute to the development of the institute and its students.
PSG Institute of Management is proud to have a thriving Alumni Association with a strong network of over 12,000 alumni spread across the globe.
The association conducts various programs and events throughout the year to help alumni stay connected with the institute and each other. These programs include seminars, workshops, guest lectures, and social events.
One of the primary objectives of the PSG Management Alumni Association is to support the institute in its endeavors to provide quality education and training to its students. The association works closely with the institute to identify areas where alumni can contribute their expertise and knowledge to benefit the students. Alumni of the institute are also invited to participate in the institute's placement process, providing students with valuable insights into the job market and industry trends.
Another important function of the PSG Management Alumni Association is to provide a platform for alumni to give back to the institute. Alumni are encouraged to donate their time, resources, and expertise to support various initiatives undertaken by the institute. These initiatives include scholarships, research grants, and infrastructure development.
Why Choose Us?
A choice that makes the difference.
Trusted by over 6000+ students
Join our community of students around the world helping you succeed.

V.K.JAYCHANDRAN
Executive Director, Indian Oil Corporation

KASI VISWANATHAN K S
President, Sheshai Paper, Erode

S MUTHUKUMAR
Officer on Special Duty Prime Minister Office, New Delhi

MR. RADHAKRISHNAN
Speaker, Pondicherry Assembly

MR. SRINIVASAN IRS
Accountant General of Tamil Nadu

THAMARAI KANNAN IPS
DIG of Police

MR. VENKATESH MYSORE
Chief Executive Officer, Red Chillies Entertainment Private Limited

MRS. SAILAJA KIRAN
Managing Director, Margadarsi Chit Fund, Hyderabad
PSGIM Rankings
We've achieved an enviable reputation for research and teaching excellence.
PSGIM is recognized as the 34th Best B-School nationwide.
PSGIM holds the 22nd position as the best private B-School.
PSGIM is ranked 6th among B-Schools in the South Zone.
Campus Life
Building a vibrant community of creative and accomplished people
We were provided adequateopportunities to improvepersonality development skills, Oratory and Public speaking Sports and Physical exercises taught us the importance of Discipline, Time Management,Punctuality and Team Work
Mr. Jayakumar Ramdass
Managing Director, Mahendra Submersible Pumps
The PSG Management program taught me not just about business but also about ethics and social responsibility. I am proud to be part of the alumni association that continues to promote these values and create positive impact in society.
Rajesh B Lund
Partner, Srivari Property Developers
At PSGIM the wide exposure we got from the guest lectures on a routine basis,and the numerous presentations we did helped improve our communication skills and gain self confidence.
Mr. Ashwin Pandiyan
Executive Director, Aachi Masala
We were provided adequateopportunities to improvepersonality development skills, Oratory and Public speaking Sports and Physical exercises taught us the importance of Discipline, Time Management,Punctuality and Team Work
Mr.V. Lakshminarayanaswamy
Chairman & MD, Suguna Group
My time in PSGIM was everything to me. I had an opportunity to be the Chairman of EXE Games 1991 celebrations, Chairman of Silver Jubilee celebrations of PSGIM, and also the Secretary of Management Association of PSGIM for 1990-91. All this helped develop my leadership qualities, which gave me the confidence to lead the organisations that I am heading today.
Mr. T. Rajkumar
Chairman, Sri Mahasakthi Mills Limited
MY ALMA MATER – One of the biggest advantages of the PSGIM programme was its affinity with engineering. This helped me to get selected by TCS in a campus interview when it was not the norm for management graduates. That break, and my education from PSG continues to shape my career and life.
Anto Kundukulam
Service Area Manager, IBM Global Services, US
MY ALMA MATER – The management curriculum was structured in such a way that it exposed my reasoning capability to handle the complex decision making process with ease. In addition, the weekly debates and other presentations helped me face an audience with confidence and also put forward my views
Karthikeyan.P
Executive Diretor, Rashtriya Chemicals and Fertilizers Ltd.
MY ALMA MATER – For me, the institution opened windows to a new world through observation, reflection and experimentation. It gave me that slice of life, which taught me the skills to understand my own aptitudes and aspirations.
'Brand PSGIM' teaches the importance of shared knowledge. I have come across some of the best entrepreneurial brains in my two years in PSGIM. I have been inspired by the entrepreneurial excellence, which I could translate into my life and career. It also taught me to respond to changes around me, so imminent in career decisions.
Pramod Mohan
Sernior Executive officer and Managing Director Scotiabank, Dubai.
My time in PSG was a defining moment in my life. It gave me an invaluable insight into management thought, economics and behavioural sciences. These have made me a people person and helped me realise that it is the people in the team who make things happen. You take care of your people and they will take care of your business.
Varadaraj.R
Whole time Director, Rajshree Sugars & chemicals Limited
I pursued MBA as a part-time student at PSGIM after studying B.Sc. Computer Science in PSG College of Technology. The learning here led to the germination of some valuable ideas that helped me develop my business. More interestingly, there were many opportunities that led me to learn crisis management. The study and group tours have remained fond memories.
Gunasegharan Krishnan
Director, ECAPS Computer India Pvt Limited
Our education at PSGIM was one of the defining moments of our lives. Thanks to our teachers, we were exposed to new thinking and interaction avenues that set the stage for a robust and strong entrepreneurial journey. The classrooms, library, corridors, and even driving past our college, evoke cherished memories of the best period of our lives.
S.Prashanth
Executive Directors, Quadrasystems.net India P Ltd
PSGIM provided not only the critical thinking skills, but also a solid foundation for a truly disciplinary way of development. It has given me the necessary tools to pave the way for my desired career path. I had fantastic teachers who imparted invaluable lessons for life.There are fond memories of enjoying taxation classes, yoga sessions and organising 'Pongal' celebrations.
Vivek Srinivasan
Executive Director, Sree Annapoorna Hotels Pvt Ltd.